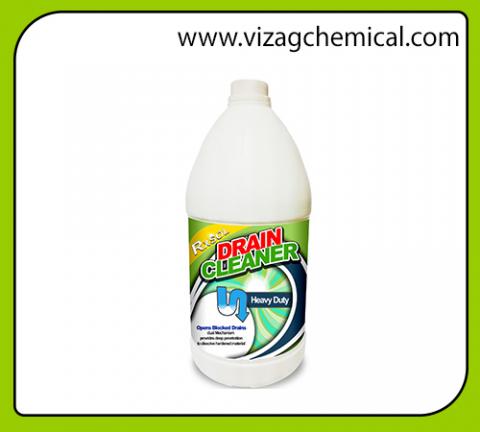 Drain Cleaner - DRAINEX
Product Delivery Locations:
Visakhapatnam, Vijayawada, Kakinada, Gangavaram, Krishnapatnam, Rawa, Nellore, Rajahmundry
Heavy DUTY and fast effective Descaler for any type of metal (except for soft metal like aluminium and zinc).
Product Description:
Heavy DUTY and fast effective Drainex drain cleaner consists of pleasant fragrance that removes foul smell and effectively dissolves the caught and blocked materials initially cleaning the pipes which keeps away germs. RXSOL DRAINEX drain cleaner is instant solution to remove oils and dirt materials from drainpipes.
Product Application:
Scales remover for sewage pipe lines and evac systems.

Reason for DRAIN BLOCKAGE :
Frequently chopped food particles gets jammed and clogged in the entrance of the pipes and produces wreckage that effects the regular flow of water resulting in foul smell.
The washbasins of house are of regular use, and often many dirt particles like hairs and residue of food particles blocks the exhaust pipes.

Result :::

Trapped dirt material s after time causes stinking smell attracting cockroaches, Suitable for for any type of metal (except for soft metal like aluminium and zinc)
Product Technical Specification:
Product alias:
Drain Pipe Cleaner, Drainex, Trap-O-Zym