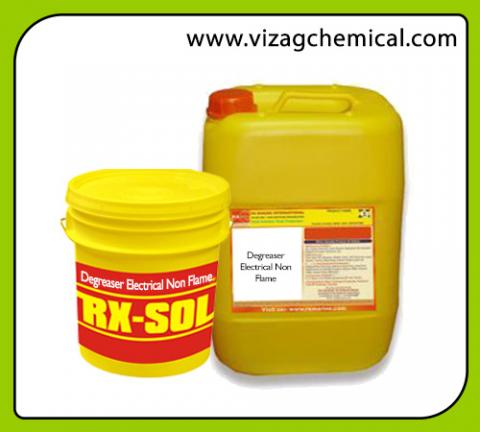 Degreaser Electrical Non Flame
Product Delivery Locations:
Visakhapatnam, Vijayawada, Kakinada, Gangavaram, Krishnapatnam, Rawa, Nellore, Rajahmundry
Electrical Non Flammable safe degreaser for Electric Motor and Equipment Cleaning
Product Description:
Safety Electrical Cleaner & Degreaser is a non-flammable, non-conductive fast-evaporating cleaner penetrates instantly to remove dirt, oil, grease and wax. This is safe industrial grade cleaner meant for electronic equipments, generators, motor-power tools, electrical parts etc.
Being non-flammable, it can be safely used to clean motors and generators. Electrical Cleaner & Degreaser effectively removes the oil, grease, carbon without the need of rinsing with water.
It increases the life of electrical components by removing foreign materials that can cause costly downtime.
Product Application:
Safety Electrical Cleaner & Degreaser is used for industrial machineries, metal surfaces and other electrical parts. It is widely used in power stations, refineries, vessels, hotels, aviation industries, oil and gas industries, manufacturing plant etc. to clean Electric motors, generators, air tools, brakes, clutches, chains, sprockets, wire rope, dies, molds, relays, radar equipment, material handling equipment, air conditioners.
Product Procedure:
For Spray Method :::
Electrical Cleaner & Degreaser generously on surfaces that require cleaning. 
Brush or agitate if necessary 
Leave to dry.
For stubborn grease, manual agitation with a brush or cloth may be required.
For DIP METHOD :::
Shake well before use.
Pour the product into a metal container
Soak parts to be cleaned into Safety Electrical Cleaner & Degreaser for about 5 to 15 minutes
Brush or agitate if necessary. 
For parts with stubborn grime or sludge, soak for a longer period of time and cover with a tight lid to prevent evaporation loss.
Product Note:
Note: After cleaning, apply new grease, oil or coating before using the motor.
Product Technical Specification:
Cleans Effectively 
Cuts Down Costly Hours Of Downtime
Extends Equipment Life Span
Leaves No Residue
Non-Oily
Non-Flammable
Reduce Fire Hazards
Product pack size:
500 ml, 1 Ltr, 5, 10, 20, 50, 210 Ltr available as per customer demand. And also private labeling can be done for BULK qty purchase. We have daily shipment services for our regular customer in INDIA and Middle East.
Product alias:
Electrosol Non Flammable, GASKET REMOVER
Electric motor cleaning solvent which helps to clean electric motor with brake parts, electric motor winding cleaning. Due to its non corossiveness this cleaning solution classified as best motor winding cleaning solvent. Also effectively clean electric motor armature.
Regular motor cleaning must be done both on the outside and the inside of the motor. The winding should be cleaned with proper chemical agents not only increasing effieciency of motor but also decrease electrical resistance which is resulting over heating of motor.