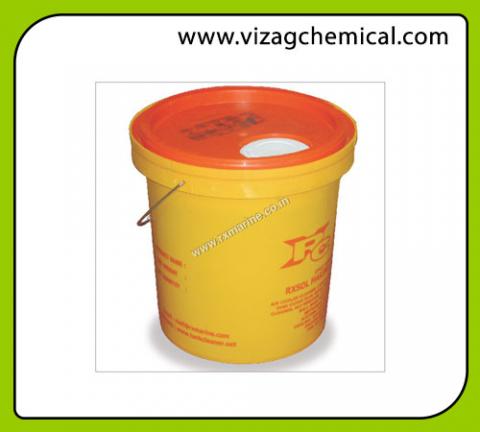 Cationic Poly Electrolyte Powder (RXFLOC 200)
Product Delivery Locations:
Visakhapatnam, Vijayawada, Kakinada, Gangavaram, Krishnapatnam, Rawa, Nellore, Rajahmundry
The Cationic Poly Electrolyte is utilized for dewatering organic slush from human waste, sewage and industrial effluents
Product Description:
The RXFLOC 200 Cationic Poly Electrolyte is utilized for dewatering organic slush from human waste, sewage and industrial effluents. This powdered form flocculant is formulated by making use of finest quality polyacrylic ester to ensure exceptional treatment effects in the combination of inorganic flocullants. By neutralizing the electric charge of sludge particles, these electrolytes promote flocculation effectively.
It is appreciated for unmatched features like exceptional floc formation, superior cleaning performance, quick settling, improvised filter clarity, high filtration capacity, fully miscible in water and competent in filter cake washing. RXFLOC 200 is organic based powder  suitably utilized in industrial waste water treatment, sewage treatment, paper making, petroleum, and metallurgy industries for clarification, sludge thickening, sludge dewatering and water recovery processes.
Product Application:
RXFLOC 200 is a cationic polyelectrolyte. It is used for dewatering of organic sludge from sewage, human waste etc. Dewatering of organic sludge from pharma and industrial effluent.
 
Product Procedure:
RXFLOC 200 dose as below for  solid-liquid separation process:
 
Belt filter, centrifuge, screw press dewatering- increased production rate, cake solids and solids capture.
Water clarification - improves influent, process and effluent water quality by reducing suspended solids and turbidity.
Dissolved air flotation - result in cleaner subnatants, increased float solids and greater throughput.
Filtration - improve filtered water quality and plant throughput.
The above are the primary applications for this product. This product may be beneficial in any solid-liquid separation process.
RXFLOC 200 Cationic Polyelectrolyte Powder dry PAM cationic flocculants should be properly dipersed and dissolved to 0.1-0.5% concentration. Dissolution should be completed around 1 hour of agitation, but will be faster in warm water. However, the temperature of watershould be refrained from above 50 degree C.
Treatment Levels (for use as ):
| | |
| --- | --- |
| Air Flotation Flocculants | : 0.1~ 5.0 ppm |
| Thickening Flocculants    | : 0.1~ 5.0 ppm |
| Dewatering Flocculants   | : 0.1~ 1.0 ppm |
Product Note:
Features and Benefits :
Economical to use-effective at very low dosage levels.
Perform well over a wide pH range.
Improve throughput and cake solids.
Achieve high solids capture.
Easily sealable in water.
Dry product minimizes storage requirement.
Handling :  Proper human safety products such as Splash goggles, lab coat, vapor respirator, gloves and boots should be worn while handling and applying chemicals. Splashes on skin should be washed off with water immediately. In case of splashing into the eyes, flush it with fresh water and obtain medical attention. Should not be injected. Please refer MSDS for more details.

Storage : RXFLOC 200 Cationic Polyelectrolyte should be stored in original containers in cool and dry place, away from sources of heat, flame and direct sunlight.
Product Technical Specification:
| | |
| --- | --- |
| Physical Form | : Granular Powder |
| Color | : White |
| Odor | : None |
| Freezing/Melting Point | : Not determined |
| Solubility in water | : Soluble, solubility limited by viscosity |
| Vapor Density | : Not applicable |
| Vapor Pressure | : Not applicable |
| Density | : Not determined |
| Specific Gravity | : 0.8 - 1 |
| pH | : ~ 3.3 (1 % solution) |
| Percent Volatile | : None expected above trace levels. |
| VOC | : Not applicable |
| Partition Coefficient(Octan/Water) | : Not determined |
| Decomposition Temperature | : Not determined |
| Flammability Limits in Air | : Not determined |
| Flash point | : Not applicable |
| Test Method (for Flash Point) | : Not applicable |