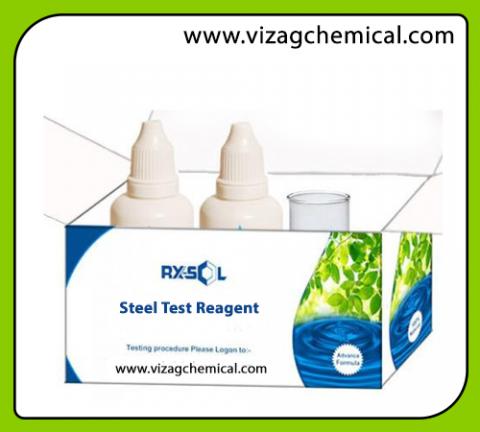 Steel Test Reagent For 304/316 ( Molybdenum Test )
Product Delivery Locations:
Visakhapatnam, Vijayawada, Kakinada, Gangavaram, Krishnapatnam, Rawa, Nellore, Rajahmundry
Steel Test Reagent for differentiating generaSteel and grade of 304 / 316, Hastelloy
Product Description:
Steel composition directly affects steel quality, uses as well as rate of materials. Chemicals stain observation is best and typical suitable method for understanding quality of STEEL.
Product Application:
Components :::
RXSOL-SS1
RXSOL-SS2
Emery Paper
Product Procedure:
Unscrew the 2 caps of the 2 bottles
Empty the bottle of Reagent RXSOL-SS1 ( 60 ml ) in the bottle of Reagent RXSOL-SS2 ( 250 ml )
Screw the tip "dropper" on the bottle
Shake the bottle before use to make sure that it properly mixed.

Choose a surface enough levelled, smooth and horizontal of 1 to 3 cm3.
Clean it by rubbing with an emery paper as the one supplied with the bottle on the prepared surface. Stir gently with the included spatula during the whole test. Do not spread the pasta.

Product Note:
Work preferably at a temperature between 15 and 25 degree C (more time is required for lower temperatures).
When the steel contains no molybdenum the colour does not change (during the first minutes).
While RXSOL MIX Reagent gradually turn to brown in case of steel with more than 0.15% of molybdenum.
When the molybdenum value is higher than 1.5%; the reagent turns to intensive brown cholocate.
Browning speed increases with molybdenum content; In the 18/8 standard steels, it's recommended to make comparative tests on the two MO material is distinguished by its lower reactions rate.
In that case, the user has to clean the spatula between the two tests. The reagent easily characterizes nickel-molybdenum alloys of hastelloy B type, with very high molybdenum content. The colour becomes clearly brown after 5 minutes. It has not effect in the case of nickel-molybdenum-chromium alloys of the hastelloy C type.
Product Technical Specification: