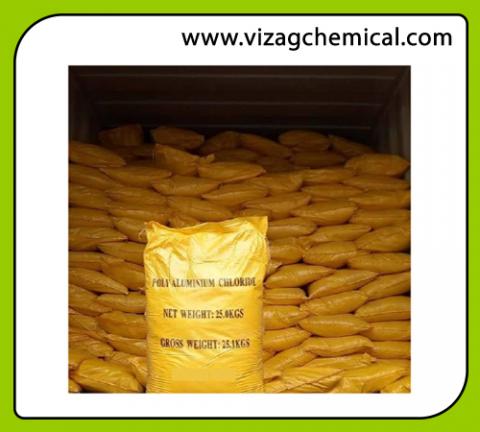 Poly aluminum Chloride 25 Kg. PWD
Product Delivery Locations:
Visakhapatnam, Vijayawada, Kakinada, Gangavaram, Krishnapatnam, Rawa, Nellore, Rajahmundry
Poly aluminum Chloride 25 Kg. PWD
Product Description:
Polyaluminium Chloride Powder

supreme grade Polyaluminium Chloride Powder. We formulate these chemicals using quality compounds to obtain pure chemicals. The powder is widely used in water treatment plants for purification of water. Its also used in deodorants and antiperspirants. Our experienced quality examiners test the Polyaluminium Chloride Powder on the basis of various parameters before forwarding it for delivery. Furthermore, we are able to deliver these chemicals within the time-specified by our clients.

Product Application:
Polyaluminium Chloride Applications
A part from the use in water treatment and urban water supply, Polyaluminium Chloride also finds application in drilling exploration, cosmetic, chemical, paper and various other industries.


Advantages of Polyaluminium Chloride:
• A wide range of pH value from 5 to 9 can be adapted by Polyaluminium Chloride and can be easily reduced to basicity, after processing
• It can easily adapt the different temperature of water during summer and winter and at different regions, i.e, the south and the north of China.
• It is best suited for an automatic dosing device of alum (hydrated double sulphate of potassium and aluminium)
• Its purifying effect is much better than other organic flocculants. It easily purifies the water on low-temperature and low turbidity. Also, it lower the water treatment cost by 20-80%.
• The dosage of Polyaluminium Chloride is smaller than other flocculants, which efficiently improves the quality of treated water.
• With huge size and rapid condensation service life of cellular filter (sedimentation basin), the quick formation of FOLC at low temperature is easily possible using the chloride.

Product Procedure:
Polyaluminium Chloride Usage
• The user can allocate the remedy concentration of the product by test and can easily determine the appropriate dosage, which is to be added after they are dissolved and diluted.
• The perfect dilution ratio of liquid product is 5 to 50% and the solid product is 2 to 20%.
• The solid product dosages is 1-15kg/1000 tons water and liquid product dosage is 3-40kg/1000 tons water
• The perfect amount of dosage can be determined after coagulation tests and experiments.
| | |
| --- | --- |
| Items | Data |
| Appearance | Solid powder, yellow |
| Al2O3 % | 29 min |
| Basicity % | .0~90.0 |
| Insolubles % | 1.5 max |
| pH(1% water solution | .5~5.0 |
Product Note:
Salient Features of Polyaluminium Chloride:
• Made from pure raw material
• Used for drinking water treatment and paper mills as retention agent
• Appearance: solid powder, white
• Al2O3: 29% (min.)
• Basicity: 50.0% ~ 85.0%
• Insolubles: 0.5% (max.)
• PH (1% water solution): 3.5 ~ 5.0
• SO42-: 3.5% (max.)
• N: 0.09% (max.)
• As: 0.0005% max
• Mn: 0.045% (max.)
• Cr6+: 0.0015% (max.)
• Hg: 0.00002% (max.)
• Pb: 0.003% (max.)
• Cd: 0.0006% (max.)
• Fe: 0.008% (max.)
Product Technical Specification:
Technical Specification:
| | |
| --- | --- |
| Classification | Chemical Auxiliary Agent |
| CAS No | 1327-41-9 |
| Other Names | polyaluminium Chloride |
| MF | pac |
| Purity | 30% |
| Type | water treatment chemical |
| Usage | Paper Chemicals, Water Treatment Chemicals |
| Brand Name | Bluwat |
| Model Number | PAC |
| white | Powder |