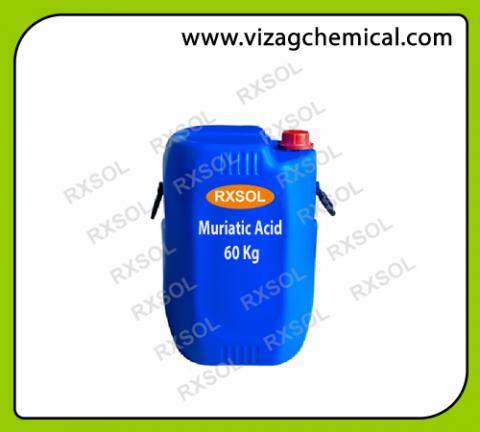 Muriatic Acid 60 Kg
Product Delivery Locations:
Visakhapatnam, Vijayawada, Kakinada, Gangavaram, Krishnapatnam, Rawa, Nellore, Rajahmundry
Generic Name:
Highly concentrated acid cleaner
Clean ship hold and Brighten Surface and also easily cleans mineral, salts deposits as well as algae and scum.
Product Description:
Muriatic Acid supplier and exporter in India and Middle East. Muriatic Acid clean ship hold and Brighten Surface and also easily cleans mineral, salts deposits as well as algae and scum.
Product Application:
Muriatic Acid comes in liquid form, While we have Muriatic acid in Gel - Viscous form which is resulting with the excess blend of surfactant and a thickening agent, which is not only increasing importance to use on the vertical surface where liquid use is not possible but also increasing cleaning action without smoke generation.
Product Procedure:
Before uses of Muriatic acid chemical washing, Removal of more excess residues during dry cleaning either manual sweeping or air blown is always been wise decision. After dry cleaning, the holds are to be chemically washed with Muriatic Acid/Hydrochloric Acid and leave the surface for 15-30 minutes to allow maximum efficiency but not to dry out. Finally washed with Sea Water and rinsed with Fresh Water (depending on the next cargo).
 
Product Note:
We are selling companies of Muriatic Acid, Share your purchase requirements and latest info on Muriatic Acid. We are suppliers, manufacturers, wholesalers, traders of Muriatic Acid. Get factory sale discounted prices of Muriatic acid through mail.
Product Technical Specification:
PRODUCT SPECIFICATION SHEET

Muriatic Acid

Parameters

Specification Range

Typical

% Strength

34.5 – 35.5

35.0

Specific gravity @ 60°F

1.175 – 1.182

1.18

Degree Baumē (Bē)

21.8 – 22.2

22.0

Iron (ppm)

0.5 – 1.5

< 0.5

Color (APHA)

N/A - 20

< 20

Total organic compound (ppm)

N/A – 5

< 5

Lead (Pb) (ppm)

N/A - 1

<1

Oxidizing substance (as cl2 ppm)

N/A – 30

< 30

Reducing Substances (as SO3)

N/A - 70

<70

Non-Volatile Residue (wt.%)

N/A - 0.5

<0.5

Sulfate (SO4) (%)

N/A - 0.5

<0.5
Product pack size:
5, 10, 20, 30, 60, 250 Kg fully new acid resistance drums. Available stock at Chennai, Ennore, Tuticorin, Visakhapatnam - Gangavaram, Kakinada, Paradip, Haldia, Kolkata, Mumbai, Nhava Seva, Surat - Hazira, Kandla, Mundra, Gandhidham - India. Fujairah - Dubai - Middle East, UAE.
Muriatic Acid plays a very important role in cement cargo hold cleaning.
Step 1
Spray muriatic acid on entire cement covered area.including sidewalk or driveway. Do not let the liquid content evaporate fully from the surface. Wait for a day with no wind so you do not run the risk of acid spatters. Follow the precaution instructions and guidance on how to mix it with water. In general, you must use a plastic bucket.
Step 2
Test the acid on an inconspicuous portion of the concrete to make sure it won't damage the surface.
Step 3
Dip the masonry brush into the bucket. Scrub it into the concrete. If the stains don't lift right away, dip the brush back into the bucket and apply some of the acid solutions onto the concrete. Let it sit on the stains for no more than five minutes. Then scrub the concrete again.
Step 4
Rinse the concrete thoroughly with cool water. 
Precaution Ensure Your Safety :
Step 1
Wear a respirator, eye mask, face mask and strong rubber gloves. Put on old clothing that fully covers your arms and legs. Wear socks and old shoes or boots; never go barefoot while working with muriatic acid.
Step 2
Keep a pressure washer right next to your work area in case of accidental spills. You might substitute a hose for the pressure washer, but only if it has strong water pressure. You'll also need the pressure to dilute and wash away the acid when you're finished.
Step 3
Protect other parts near your work area since muriatic acid can damage,  then cover these areas with a tarp.
Step 4
Keep flames, heat and sparks far away from the acid. Muriatic acid is not flammable, but it can form a flammable hydrogen gas if it comes into contact with metal.
After discharging Coal or pet coke, which leave staining, it is often necessary to use heavy duty stain removing alkaline detergents, which are applied on the surface and leave for at least 10 minutes to take effect by chemical reaction and then finally rinsed away with water. Aquatuff High Foam is a heavy alkaline cleaner with good foaming qualities, RXSOL PCS developed for cargo hold cleaning to remove stains and discolouring after discharge of cargoes such as pet coke, coal. And Holdbrite, Alkaline Liquid also developed for cargo hold cleaning. 
Tips for general cleaning of Cargo Holds.
1st step is Manual Cleaning: First of all try to remove all loose / deposited cargo,  live & dead insect & weevils from Holds frames, beams, girders, and other structure by manual swiping or air blown pressure method. This step not only help to consume less clean requirement but also loose debris cargo materials can mess entire surface with contact of a liquid solution, further can kill more time.

2nd Step is Inspection: After following the 1st method of manual cleaning try to remove loose rust/paint skin from the metal surface, For this step Metal Brite Rust remover and paint remover can save more time other than manual scraping cleaning methods. As we observe that only 25 ltrs to 50 Ltrs of Metal brite is sufficient to complete this step of cleaning of Bulkheads, upper and lower hopper spaces, underneath of Hatch Covers and the tank top.

3rd step is for Wise Decision for selection of suitable cleaner :  Then apply selected hold cleaning agent like aquatuff, hold brite, Alkaclean, Coal Remover, Cement remover, Hodwash, Rock Phosphate cleaner, HBI cleaning agent, Sodium Hypo, Muriatic Acid, Citric Acid, Fore and Aft, PCS hold cleaner, Teepol and other detergent cleaners. Before selection of any cargo hold cleaning detergent understand chemical property of cleaner and actual requirement, For example, if cargo is lime then Lime Remover can works better then Aquatuff. As lime contains alkaline component when it comes in contact with moisture, solidification starts which becomes hard solid deposition. The hard solid lime deposit can be easily broken in to lose muddy mass by application of RXSOL LIME WASH, Its chemical formula is effectively neutralized alkaline content of LIME. Similarly, cement remover, Coal Remover and other specialized hold cleaner contain specialized materials to work fast on specific cargo.

4th step is for Bilge Area: Bilge covers should be cleaned of any cargo residues. Check each and every drain hole should be open and  Bilge cover must be covered with BURLAP, not with plastic or other watertight materials ( for ready reference pl. click here ). And Bilge tank should be cleaned and odour free by using suitable detergent with deodorizer and antibacterial properties. Chemically ppm level of potassium permanganate can play best role which is not only disinfected surface but also can deodorize the tank.

Available stock at Kandla, Mundra ( Gandhidham ), Mumbai, JNPT - Nhava Seva, Goa, Manglore, Vishakhaptnam - Vizag, Gangavaram, kakinada, Chennia - Ennore, Tuticorin, Kolkata - Haldia, Paradip - INDIA and All middle east port - Dubai, Sharjah, Fujairah, Abu Dhabi ...