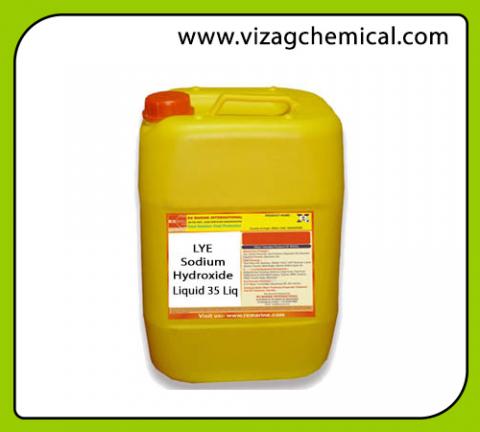 LYE Sodium Hydroxide Liquid 35 Liq
Product Delivery Locations:
Visakhapatnam, Vijayawada, Kakinada, Gangavaram, Krishnapatnam, Rawa, Nellore, Rajahmundry
Caustic Lye concentrated solution
Product Description:
Sodium Hydroxide Solution is Inorganic alkalis. Its General Use: Drinking water treatment, paper making and other manufacturing applications, Detergent and soap industries etc.

Synonyms: Caustic Soda, Caustic Alkali, Lye, Caustic Soda Liquid, Soda Lye, Liquid Caustic, Sodium Hydrate. We are major supplier in India / UAE.
Product Application:
Lye Liquid is clear to slight haze, colorless to light grey tint.
Product Technical Specification:
| | | | |
| --- | --- | --- | --- |
| Chemical Name | Percent | Value | Test Method |
| Sodium hydroxide(NaOH),min. | % | 48-55 | STAS3068 |
| Sodium carbonate (Na2CO3), max | % | 0.7 | STAS3068 |
| Water | % | 45-52 | |
Appearance: Liquid, clear to slight haze, colorless to light grey tint.
Odor: No odor
pH: 14 as is basis
Melting/Freeze point-range: -18⁰C - -12.8⁰C (0⁰F-5⁰F) approx.
Boiling point-range: 110⁰C-113⁰C (230⁰F- 236⁰F) approx.
Flash point: NA
Evaporation rate: NA
Flammability: Not flammable.
Upper/lower flammability limits: NA
Vapor pressure: NA
Vapor density: NA Relative
Water Solubility: Complete.
Partial coefficient: n-octanol/water: NA
Auto ignition: NA
Decomposition temperature: NA
Viscosity: 7-10 cps @ 20⁰C (68⁰F)
Product pack size:
1, 3, 7, 30, 35, 60, 250 Kg ( Ltr )