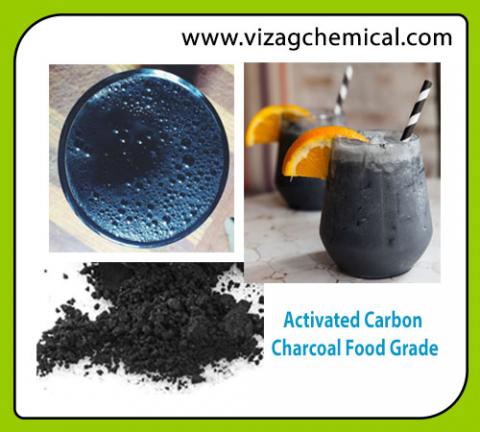 Activated Carbon Charcoal Food Grade
Product Delivery Locations:
Visakhapatnam, Vijayawada, Kakinada, Gangavaram, Krishnapatnam, Rawa, Nellore, Rajahmundry
Activated charcoal binds with a number of things beyond toxins including healthy vitamins and minerals. Popular component for Detox Juice
Product Description:
Activated charcoal manufacturer and supplier.
Activated charcoal uses for JUICE
Activated charcoal binds with a number of things beyond toxins including healthy vitamins and minerals. Also be sure to drink lots of water along with your juice to keep your fluid levels up!
Popular Detox Juice -
Popular lemonade and activated charcoal juice cleanser. Other juice like orange juice, grapefruit juice also can be blend with charcoal. But remember alkaline juice like lemongrass combine with activated charcoal will result best CLEANSER detox.
The lemonade with activated carbon is quite popular among them, as activated charcoal removing other toxins ingested.
Safe, natural and without side effects
Activated charcoal juices are all natural, safe to drink'as long as you follow the guidelines above'and will remove toxins from your body. Most people's systems do just fine with activated charcoal, so there's no real danger in trying it. Because it isn't absorbed into your system, so shouldn't add to any problems you're experiencing. And, despite looking gloomy and cloudy, there are no negative side effects to report'appearances can be deceiving. For maximum effect, try activated charcoal juice no more than one than once or twice a week'this should leave you feeling recharged for the time in-between.
Product Application:
Activated carbon is useful in drinking water treatment because it acts as an adsorbent , and can effectively remove particles and organics from water. These organics are of great concern in water treatment because they react with many disinfectants, especially chlorine.

The use of granular Activated Carbon in wastewater treatment systems is a proven process for removal of organic compounds. As a tertiary treatment method, carbon adsorption and regeneration have been used to process domestic wastewaters contaminated with industrial wastes of organic origin as well as biologically treated waste waters. Activated Carbon, when contacted with water containing organic material, will remove these compounds selectively by a combination of adsorption of the less polar molecules, filtration of the larger particles, and partial deposition of colloidal material on the exterior surface. The quantity of Activated Carbon required will depend upon the degree of contamination.
Product Procedure:
Activated Carbon is a porous material that removes organic compounds, pollutants, contaminants and other impurities from liquids, gases, chemicals, metals, etc. we also provide a varied choice in the manufacturing base of Activated Carbon. viz. Coconut Shell Based, Wood Based and Coal Based Activated Carbons.
Activated Carbon is commonly used to adsorb natural organic compounds, taste and odour compounds, and synthetic organic chemicals in drinking water treatment. Adsorption is both physical as well as chemical process of accumulating a substance at the interface between liquid and solids phases. Activated Carbon is an effective adsorbent owing to its high porosity and availability of a larger surface area for better and efficient contaminant adsorption. Activated Carbon is available as Powdered Activated Carbon (PAC) and Granular Activated Carbon (GAC).
An amorphous from of carbon characterized by high adsorptivity for many gases, vapors, and collodial solids.
Used for water and air purification, solvent recovery, waste treatment, removal of sulfur oxide from stack gases and "clean'' rooms as deodorant, and for air conditioning.
Product Technical Specification:
Physical

Appearance: Dark grey/black powder
Specific Gravity: .22-.32
Pour Point: 2150ºC
Flash Point: Not flammable

Chemical

Type: Charcoal
Solubility: Negligible (water, oil)
pH: 4.0-6.0
Microtox: Not applicable
Product alias:
Activated Charcoal Food Grade