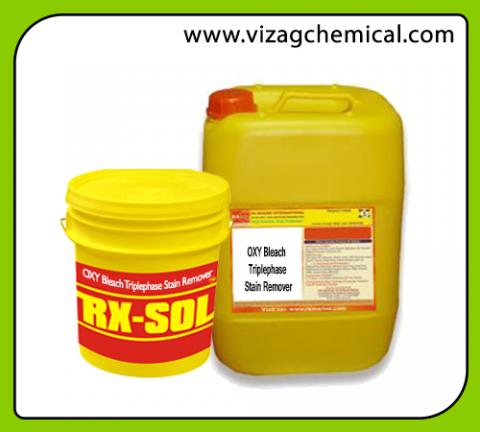 OXY Bleach Triplephase Stain Remover
Product Delivery Locations:
Visakhapatnam, Vijayawada, Kakinada, Gangavaram, Krishnapatnam, Rawa, Nellore, Rajahmundry
Triple phase Stain Remover suitable for suitable for all fabrics except nylon and wool.
Product Description:
Ready to Use Oxidizing Stain Oxidizer with three phases action activated oxygen makes stain disappear, residual discoloration is eliminated by additional ingredients, and polymers protect against resoiling and wicking
A RXSOL peracetic based bleach product designed to alter the structure of stains by removing, oxidizing, or making them invisible and very effective use in the laundries to remove stains. Ideal for use with mustard, furniture stains, wood stains, shoe polish, urine contamination, coffee, vomit, pigments, and other staining materials you would not eat or drink.
It is used for low temperature bleaching and is suitable for all fabrics except nylon and wool.
Product Application:
Triple Action phase provides you with three distinct levels of performance as a stain remover.

First Easy to dose activated oxygen makes the stain invisible.

Secondly, Excellent destainer for all types of fabrics whether white or colouredwhen residual discoloration remains, this product will continue to work as it dries.

Third, specially blended water soluble polymers protect the Minimum fabric damage and colour fading when used as directed from re-soling and fight against the spill wicking back. This product is for use with synthetic carpet or fabrics only. Not recommended for natural fabrics, wool and nylon .
Product Procedure:
SPOT CLEANING :::
Always pretest for colourfastness in an inconspicuous area. After getting satisfaction Remove as much of the staining material as possible with conventional spotting techniques before apply RXSOL-41-8818-025. Then Apply RXSOL-41-8818-025 on affected area of the stain wait for full reaction with chemical and stain approx ten minutes. Then Agitate with spotting spatula or tamping brush, and blot with clean finally absolbe with white absorbent towel. Rinse and extract area thoroughly to remove as much of the stain and moisture as possible. If any residual stain remains, apply RXSOL-41-8818-025 again. Allow to dry and if Dried parts require repetation then can repeat once more time to get optimum result.
General Wash :::

Use 80 – 120 ml RXSOL-41-8818-025 for per 10 kg fabric / Cloth. Donot use other cleaner which have pH value less then 9 and more then 10. Also maintain temperature in between 60 to 70o C. Pl. be note Notice: This product contains oxidizers and may pull the original color of the carpeting, especially when used in conjunction with heat and other accelerating actions.
Product Note:
Field Application
Common Household Stains like Mustard, Coffee, Wine, Pet Urine Stains, Vomit, Medicine
Destainer OXY Bleach Triplephase Stain Remover manufacturer in India and Middle east , Fujairah. And we have stock point at various location of INDIA - UAE due to that we are holding largest OXY Bleach Triplephase Stain Remover supplier for Mumbai, Navi Mumbai, Kandla, Gandhidham, Surat, Vizag, Chennai, Ennore, Kolkata, Ennore, Haldia, Jnpt, fujairah, Sharjah, Dubai, Abu Dhabi, Gulf. Our RXSOL Brand OXY Bleach Triplephase Stain Remover also listed as exporter for Africa and Turkey.
Product Technical Specification:
APPEARANCE AND ODOR:

Clear solution

strong

odor

pH of 1% solution

3 – 3.4

Specific Gravity

at 20o C: 1.11

VAPOR DENSITY:

No data available.

SOLUBILITY IN WATER:

Soluble

EVAPORTATION RATE:

No data available.



Product alias:
Triplephase Stain Remover, Acetoxy Destainer LAD13